Through this training course, it is the mission of Healthy Visions to enhance this entire skill set.
Five Ways to Get Certified
Online | DVD Home Study | Live Course | Your Facility | Facility License
This Moderate Sedation Course Includes:
History of sedation
The definition of sedation
Different degrees of sedation
Goals of sedation
What is moderate sedation
Indications for sedation
Possible consequences of sedation
Role of the sedation nurse
Levels of sedation analgesia
The continuum of sedation
General approach to conducting safe and effective sedation
The foundation
Performing safe and effective sedation
Foundations of Sedation
The sedation team
Sedation team communication
Joint Commission guidelines
Joint Commission 2000
Joint Commission standards and deep sedation and anesthesia
Care of patients
Joint Commission policy
Joint Commission policy – Permission to administer moderate sedation Q&A
Pre-Operative sedation assessment
Learn the ASA classifications and how to properly use them
Physical examination
Airway assessment
Mallampati Airway Assessment
Goals of pediatric sedation
Pediatric special considerations
Age related changes in vital signs
Pediatric assessment
When not to sedate a child
Who is qualified to sedate pediatric
Special equipment for PEDS
Benzodiazepines
Reversal for Benzodiazepines
Midazolam (Versed)
Diazepam (Valium)
Flumazenil (Romazicon)
Reversal for Flumazenil (Romazicon)
Narcotics
Opioids
Morphine
Meperidine (Demerol)
Naloxone (Narcan)
Reversal Naloxone (Narcan)
Ketamine (Ketalar)
Reversal for Flumazenil (Romazicon)
Clondine (Catapress)
Dexmedetomidine (Precedex)
Emergency Medications
Propofol
States policies concerning RNs giving
Some Boards of nursing allow, some don't
Adverse reactions to Propofol
Should RNs push Propofol?
Why RNs are asked to push Propofol
Propofol concerns
Arguments for RNs giving Propofol
Propofol for ventilator support
Pulmonary Aspiration
Dysrhythmias
Hyper/Hypotension
Sedation Disasters
Reversals
How to address patient fears
How to to talk to patients
Suggestibility and semantics
Memory and hearing formation during sedation
Pre, intra and post-op suggestions
100 Randomized Question Exam The actual exam to earn your Certification in Moderate Sedation is a 100 question exam which covers all aspects of Moderate Sedation including but not limited to:
History
Joint Commission Policies
State guidelines
The medical team
Best practices for sedation and proper assessment
Patient assessment
Equipment
Medications
Reversals
Monitoring during the procedure
Airway
Discharge criteria and monitoring
Geriatric specific sedation
Pediatric specific sedation
How to properly communicate with patients
And more
10 Contact Hour Certificate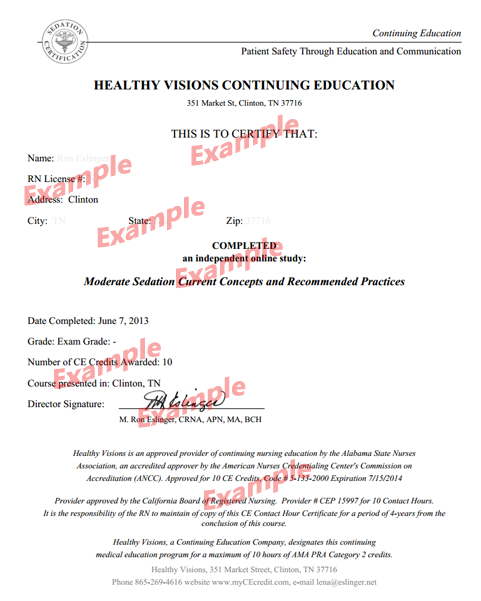 Certified Moderate Sedation Nurse (CSRN) designation
What is a CSRN
Earn your CSRN (Certified Moderate Sedation Nurse) designation through this course
A CSRN is:
A tremendous asset to the physician
They are knowledgeable of the medications used
They possess the skills to properly assess the patient's condition
Can effectively intervene in the event of complications
They are knowledgeable of the regulations, protocols, and guidelines applicable:

To patient monitoring
Drug administration
Aware of potential complications/emergencies before, during and after the procedure
Through this training course, it is the mission of Healthy Visions to enhance this entire skill set.
---
Or call 1-866-312-3159 for assistance.
---
"https://sedationcertification.com/resources/moderate-sedation-quiz/ Test Your Knowledge
---
---
One year free membership to the AAMSN (American Association of Moderate Sedation Nurses) included
---
Get Certified in Moderate Sedation Today
---
To get started choose from the course type that suits your needs (Blue is link):
Online Moderate Sedation 10 CE Course – Get instant access to our online course. Includes all videos, course manual and exam also works on all Windows, Apple and Android devices.
DVD Home Study, Moderate Sedation 10 CE Course – All video materials on DVD, printed course manual, online access for exam delivered to your door.
Live Course, Moderate Sedation 10 CE Course – Join one of our instructors for a day of sedation learning in a live course.
For facilities who need to certify multiple staff members
Your Facility – Our instructor comes to your facility and instructs the course live to your staff.
Facility License – Online access of all materials for your staff at a huge discount, available for 15 or more.
Or call 1-866-312-3159 for assistance.
Provider approved by the California Board of Registered Nursing. Provider # CEP 15997 for 10 Contact Hours.
MyCEcredit is approved as a provider of nursing continuing professional development by The Alabama State Nurses Association, an accredited approver by the American Nurses Credentialing Center's Commission on Accreditation Code # 5-133.
This Moderate Sedation Course Includes: